Paleontologists in Argentina have unearthed yet another Titanosaur, dated at 98 million years old.
This is one of the oldest titanosaurs on record, firmly establishing the enormous sauropods as coexisting with others, from small rebbachisaurids to other sauropods.
The discovery was reported in Cretaceous Research and splashed worldwide in recent news releases.
The giant sauropods easily dwarf most animals, larger than any creature on record with the exception of blue whales. They were not able to find enough to definitively label the find as a new species, but they do believe this specimen exceeds the size of fellow titan, Patagotitan, a similar species that measured as much as 122 feet long.
Just how large are these titanosaurs?
An adult man could weigh 150 pounds. An adult hoary marmot typically weighs 15 pounds. That's ten times smaller than a human.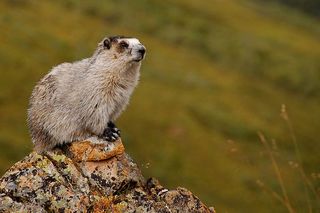 To a titanosaur, an elephant would be smaller than a hoary marmot is to us. Recent studies put Patogotitan at twelve times the weight of an African elephant.